Purpose of the Program
Companies around the world are digitizing their procedures to achieve both cost reduction and more satisfied customers. The challenge is to digitally connect all company activities and coordinate them with those of suppliers and clients. Reorganizing a company digitally requires both specific software to assist in the process and qualified individuals to guide those changes. Utilizing specialized programs in digitization is within reach of any university-educated person with interest, but it requires certain specific training. Considering the need for professionals with this profile, there is a very attractive job opportunity for individuals trained in this field.
If you visit job portals or look at job offers from the most attractive companies, you will see that there are many searches for individuals with SAP training. SAP is the largest European software company, and its products are the most widely used platform in the world for digital flow management in companies. Jobs for specialists in this software often offer attractive salaries and conditions, as well as opening doors to opportunities in a variety of sectors and activities.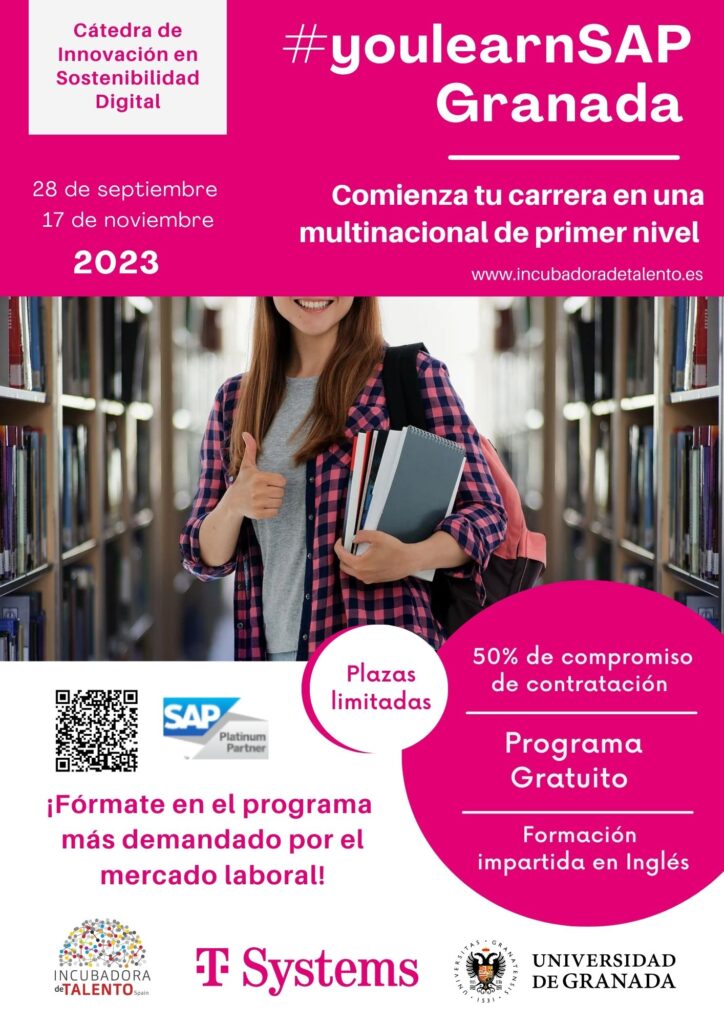 The #youlearnSAP – Granada program aims to provide highly practical training and professional experience to students and recent graduates interested in learning how to use SAP to work in helping organize companies and activities digitally. You can apply for this program regardless of the degree you have previously studied, if you are enthusiastic about the professional possibilities in this field and have an advanced level of language proficiency. Individuals who complete this intensive program will be prepared for one of the most promising professional fields in the 21st century.
Planned schedule
The first edition of the program will be carried out following the following schedule:
Processing of applications and participant selection: June-July 2023

Start of training in "soft skills" and SAP program: September 28, 2023 (in-person training, from 9:00 AM to 2:30 PM).

Official SAP certification process: November 2023.

Announcement of selected individuals for hiring in this edition: November 22, 2023 (100% of the participants will have had the opportunity to obtain a free official SAP entry-level certification, enabling them for multiple professional opportunities; at least 50% of the participants will be directly hired by the sponsoring company of the course).

Start of practical training in SAP: November 23, 2023 (mandatory only for individuals being hired in this edition, voluntary for others).

Incorporation with an indefinite employment contract at T-Systems: December 12, 2023.

Possibility of obtaining a second official SAP specialization certification for free.
** Note: The dates are approximate and will be fully defined at the start of the program, subject to changes due to force majeure.
Location
Faculty of Economics and Business Administration – Chair in Digital Sustainability Innovation at the University of Granada, and T-Systems offices in the Technological Park of Health (PTS) in Granada.
Advantages of the Program
Stage 1: In the first intensive period of just 7 weeks, you will receive practical training conducted in English by SAP experts from T-Systems. This training will allow you to obtain an official SAP initial qualification certificate free of charge. This period will also include experiential seminars in Spanish to enhance key professional skills such as communication, teamwork, and time management. The training will be conducted in person, with classroom instructors and hands-on interaction with training modules. Stage 2: Selected individuals will proceed to a second training period of only 3 additional weeks before joining their respective positions. During this stage, you will have the opportunity to obtain a second advanced SAP certification.
Regardless of the bachelor's or master's degree you are pursuing or have completed, this program is open to you if you have recently finished your studies (or are about to complete them) and possess the necessary language qualifications. A significant portion of the training will be delivered in English, so you will need an advanced level of English proficiency (equivalent to C1 or higher) to participate. Additionally, having an advanced level of German proficiency (equivalent to B2 or higher) is highly valued. Both men and women are needed in the technology field.
T-Systems has made a commitment to hire at least 50% of all individuals who complete the planned training period, with the possibility of reaching 100% depending on the expected results and market conditions. Furthermore, the free SAP training and official certification for 100% of participants will open up possibilities with many other companies and interesting opportunities.
The teams that excel in the planned specialization work during the training period will automatically receive a cash prize awarded by a panel of expert faculty participating in the course. It is expected that approximately 60% of the participants will have the opportunity to achieve this award.
T-Systems is a leading multinational company in digital services with a significant presence in Granada. T-Systems is part of Deutsche Telekom, the largest telecommunications company in Europe and one of the largest in the world. The company has been ranked as one of the top 50 companies to work for in Spain by the prestigious Forbes magazine.
The Talent Incubator of the University of Granada is the first platform for talent development in a public European university. The Incubator has a remarkable track record of success in organizing programs with leading companies in their respective fields. Students participating in these programs have rated them with an average score of 4.9 out of 5 in the past year.
Program Cost
The program is COMPLETELY FREE for all selected individuals. If you search a bit online, you will see that the cost of enrolling in a similar program individually would be over 4,000 euros per person. The total amount of the tuition fees is sponsored for the selected individuals by T-Systems in collaboration with the University of Granada through the Digital Sustainability Innovation Chair.