Digital Workflow Expert: ServiceNow Certified System Administrator & Developer Training
Program Purpose
Companies around the world are making significant efforts to digitize their internal procedures as much as possible to save costs and improve organizational efficiency to achieve their goals. The challenge is to digitally connect all company activities and coordinate them with those of suppliers and customers. Reorganizing an entire company to fit into a digital model requires both programs that support the entire process and qualified people to design and guide those changes.
If you go to job portals or look at the job offers of the most attractive companies, you will see that there is a lot of interest in experts in system digitization and specifically in workflow support programs such as SAP, Salesforce, or Apache Airflow, among others. ServiceNow is currently the most widespread platform in companies for the digital management of workflows and the one that is growing the most in recent years according to the prestigious Forbes magazine[1]. All jobs for specialists in this platform are offering very high-level salaries and conditions, as well as opening the doors to opportunities in a lot of different sectors and activities.
The Digital Workflow Expert program is aimed at offering practical advice, training, and paid professional experience to students and recent graduates interested in learning how ServiceNow works and how to help organize companies and activities digitally. People who complete this intensive program will be prepared for one of the most promising professional fields in the 21st century.
[1] "After 32% Growth, ServiceNow's Stock Could Have 65% Upside" (Forbes, January 27, 2022) (Forbes, January 27, 2022)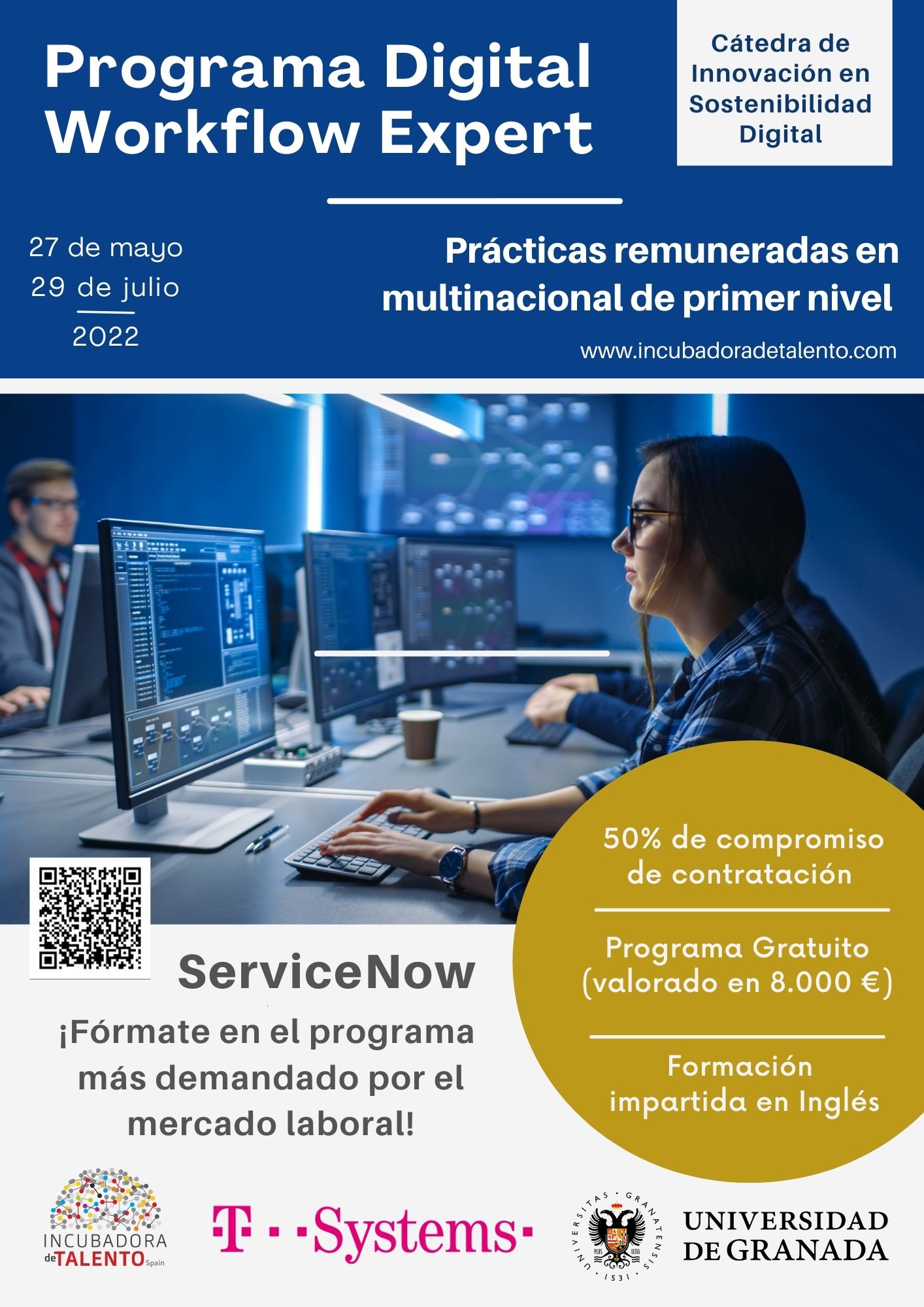 Expected Schedule: 
The first edition of the program will be carried out following the following schedule:
Processing of applications and selection of participants: March and April 2022
Soft skills training and ServiceNow program: May, June, and July 2022 (weeks alternating in-person and online teaching with sessions from 10 am to 7 pm)
Holiday break: August 2022
Internship: September 2022
Incorporation into the company: October 2022 (at least 50% commitment to hiring)
Location:
Innovation in Digital Sustainability Chair at the University of Granada and internships at T-Systems
In an intensive two-month period, you will receive practical training taught in English by ServiceNow experts through their NextGen program and experiential seminars in Spanish to improve a set of key professional skills such as communication, teamwork, or time management.
The training will alternate between one week of in-person training with remote trainers and one week of online training with provided materials.
This program is open to anyone interested who is a recent graduate or final year undergraduate or master's student. Much of the training will be taught in English, so you will need a fairly advanced level of English (we recommend equivalent to C1 or higher) to participate. You can apply for this program having studied any previous degree if you are enthusiastic about professional opportunities in this field, although the program will be slightly easier for you if you already know something about programming. Men and women are needed in technology.
T-Systems has made a commitment to hire at least 50% of all people who complete the planned three-month training period, with the possibility that this percentage will reach 100% if the results and market conditions are as expected. In addition, the training will open up possibilities with many other companies and interesting opportunities.
One-month paid internship period at T-Systems, a leading multinational in digital services with an important headquarters in Granada. T-Systems belongs to Deutsche Telekom, the largest telecommunications company in Europe and one of the largest in the world. You will receive 500 euros during this month. The internships will be carried out in person starting in September.
T-Systems has been ranked as one of the top 50 companies to work for in Spain by the prestigious Forbes magazine.
Program Cost
The program is COMPLETELY FREE for all selected people. Additionally, all selected people will receive economic compensation during the internship month, and at least 50% will start working at the end of their training. If you search a bit on the internet, you will see that the cost of enrolling individually in a similar program would be more than 8,000 euros per person. If you are one of the selected people, the total amount of your tuition is fully sponsored by the NextGen program of ServiceNow and T-Systems in collaboration with the University of Granada through the Chair in Sustainable Digitization.
If you want to have more information about this project or have any questions, write to us at this email